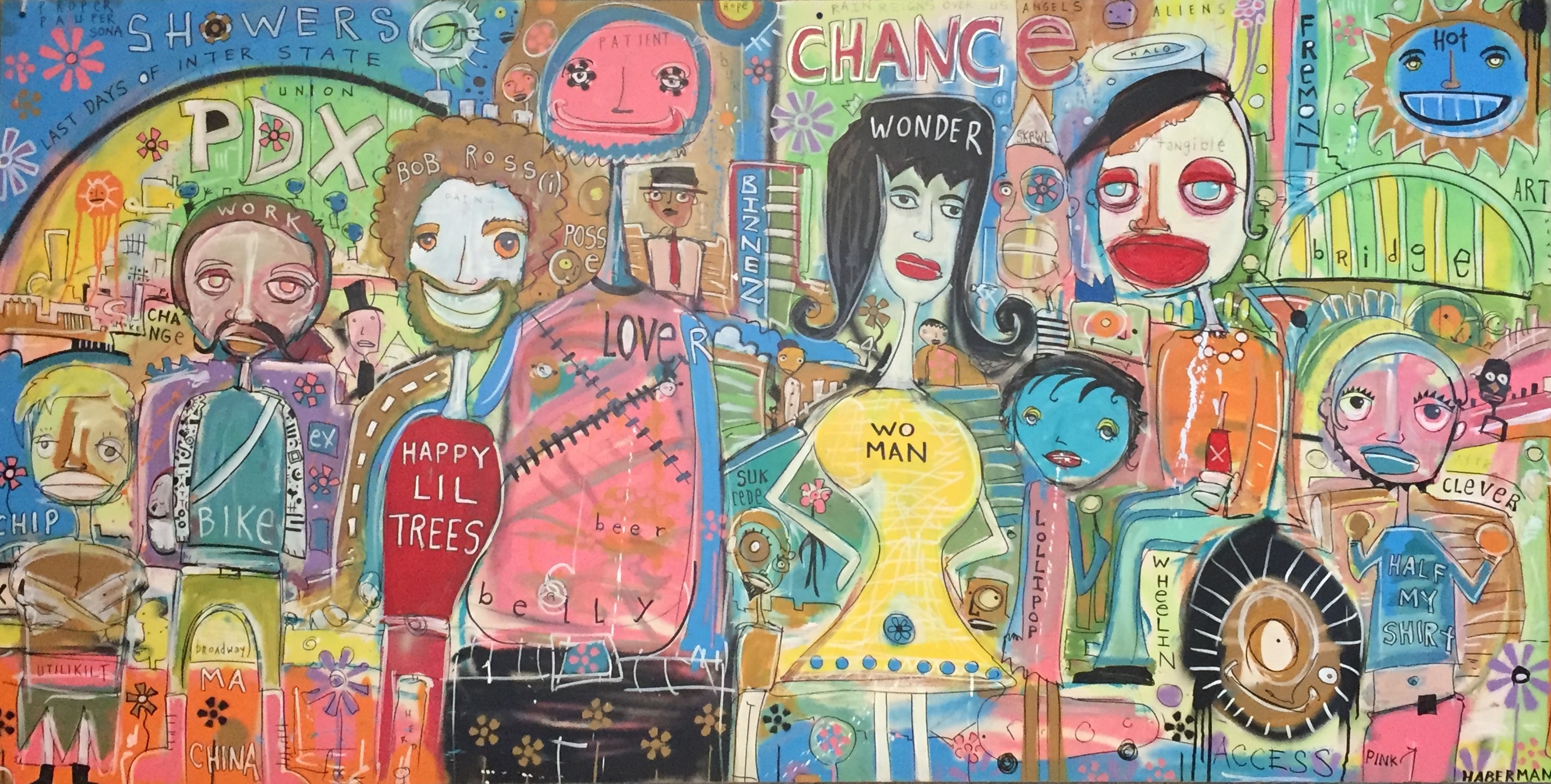 "Chance of Showers" is a collection of Chris Haberman's latest work on display at the Ford Gallery April 30 – May 28.
Saturday, April 30, opening night, join us in the Ford Gallery from 6-8 pm and then downstairs at our underground lair "Mechanical" (Suite B27) from 8 onward for Last Saturday Salon featuring a reading by Chris Haberman.
Chris Haberman is a working painter, writer, muralist, curator and musician, native to Portland, Oregon. Aside from painting, he has published poetry, journalism and fiction; being awarded the Tom Doulis Fiction award, the Wilma Morrison award for excellence in journalism from Portland State University and is a lifetime member to the Academy of American Poets.
All of Chris Haberman's artwork is created recycled objects, found material from the streets and alleyways of his hometown. A discarded cabinet door or table top quickly becomes the backdrop for an integrated puzzle-poem of figures and text, focusing on subjects like people, politics, the region, pop-culture, media, music, film and literature.
Portland Mayor Sam Adams said in 2009 that "Chris is the hardest working artist in Portland." Chris' first curatorship was a show for Adams in City Hall of Portland, Oregon, (Portland Pride, 2007). He has also shown art in hundreds of venues, including "Oregon Art Annual" and is a frequent contributor to local artwalks, school fairs and open studio tours. In July 2012, Chris recorded selling over 10,000 original works since 2001; and he was a feature artist for Oregon Art Beat on Oregon Public Broadcasting and awarded "Portland Artist of the Year" for Barfly Magazine. In Jan, 2011, he and fellow artist Jennifer Mercede won a national artist contest in Las Vegas, competing with artists' from 10 other cities.
Besides making art, Chris is also a teacher and a fervent freelance curator and arts advocate, coordinating hundreds of Portland art exhibits with regional artists since 2001, founding first a non-profit (Portland City Art, 2009) and then Chris Haberman Presents and The People's Art of Portland in Pioneer Place Mall (with fellow artist/curator/buddy, Jason Brown, The Goodfoot) both in 2010, to help local artists show their works.
In 2011, he illustrated a book with Oregon television icon, K.C. Cowan detailing a humorous selection of Catholic Saints. In the same year he also completed a 219 wood panel album reproduction for an office mural for record label Kill Rock Stars, and a 100 piece show of about the History of Oregon for Portland State University. In 2012/2013 he completed a 140 foot mural about "The History of Hawthorne Blvd." for 50th SE Hawthorne on the Eagles Fraternal Lodge funded by a grant from Regional Arts and Culture Council; and currently is the Art Consultant/Curator/Art Department Staff for TV show Portlandia (Seasons 3, 4 and 5). In 2014, he helped present the 15th annual Oregon Art Beat exhibition of 350 artists with Oregon Public Broadcasting, and appeared as a working artist on Ovation channel's reality show, "One Man's Trash." Summer 2015 Chris completed a large-scale outdoor mural for the City of Milwaukie, OR, in partnership with TriMet for the new Orange Line Train line.
Contact:
Email: [email protected]
www.facebook.com/chris.haberman