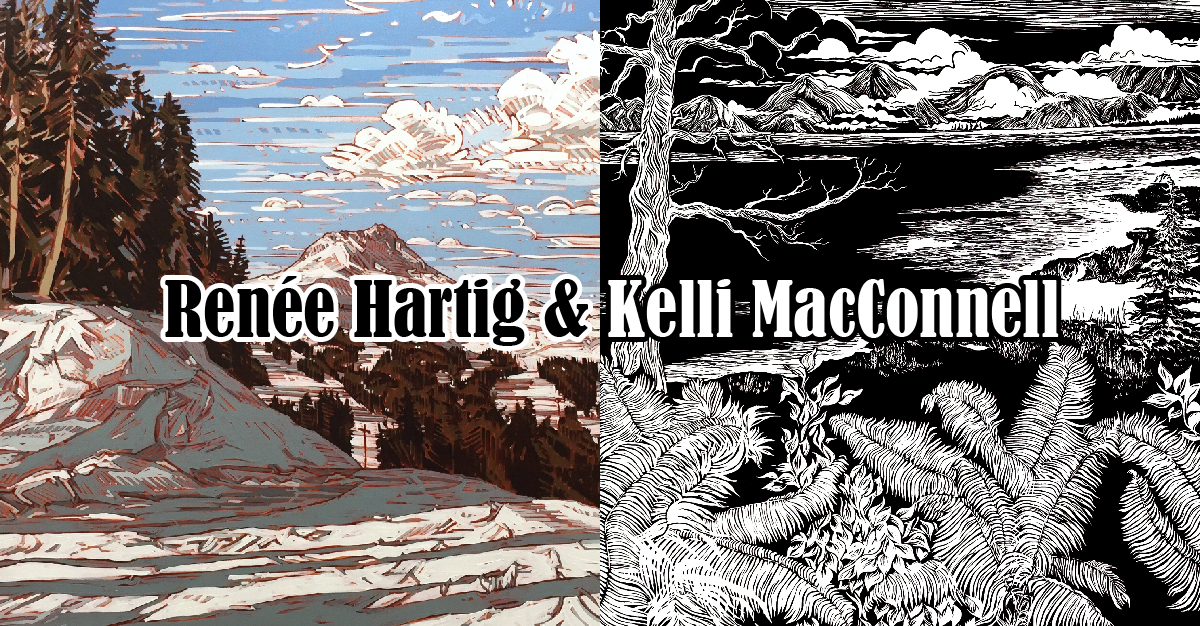 The landscape of our beloved Pacific Northwest is as striking and varied as the work of these two gifted artists.  Exploring everything from stunning coastal vistas to lush native flora in intricate detail, both artists celebrate our beautiful landscape through their own unique talents and techniques.
Opening
Saturday April 28th
6 – 9 PM
@
Ford Gallery
2505 SE 11th Ave
Portland, OR 97202
Renée Hartig
Contemporary Landscape Paintings
The land is a steady element in nature that can change both
instantly and can take thousands of years to evolve. I strive for my work to capture the land and sky as they are – moving and changing ceaselessly.
I feel that movement in the land is often lost in works of art, which by nature are fairly static and representative of a snapshot in time. The challenge of capturing this movement is what attracts me to impressionist painting.
Although many impressionist painters set out to capture a single moment, they were also able to infuse their work with a movement that makes the painting feel alive – you can feel their hand working on the painting and see each distinct decision they made through every brush stroke or mark. My goal is to capture that kind of a timeless element and movement – not only in the subject matter but to the application of the paint as well.
By nature, the act of landscape painting itself forces movement. Whether it is hiking to a location, driving across continents, visiting places in the world, or experiencing the new ways the land is formed and pieced together, it all demands physical movement by the artist.
Formally, my paintings are contemporary-impressionistic works. All of my work is done with oil paint on canvas. First I apply my orange tint to the surface. I then proceed with my under-painting and my final layers. My paintings are ala-prima (one session), so I am always working with wet-on-wet paint giving me freedom to move and manipulate the medium. Painting this way allows me to work in one layer, which helps to keep a fresh quality to my work. I also refer to my style of painting as gestural painting because l apply quick, broad brush strokes that gives my work a lot of movement.
My inspirations stretch from impressionist artists like Degas, Toulouse Lautrec, Manet, Monet and Pissarro to painters like Andrew Wyeth and Edward Hopper. I'm also very interested in printmaking techniques like woodcut prints and screen printing – the use of minimal colors, layering colors and keeping colors separated are all elements I utilize in my work.
Local artist inspirations: Walter Rane, Leiv Fagereng, Fran Kievet, James Shay, Dawn Emerson
Artist Bio
Since graduating from Kendall College of Art and Design, Grand Rapids MI, in 2005 with a Bachelors Degree in Fine Art Painting and studying at SACI in Florence Italy, Renee has been busy pursuing her career as an independent fine artist. She is represented at several galleries in Michigan and in Oregon. She now lives in SE Portland and has been painting full time for almost twelve years.
Kelli MacConnell
People ask, "Why a print, why not a painting?" On one hand, I enjoy the act of using tools to shape something, but much of the joy rests within the surprise factor—the mystery that unfolds while printing each piece. The many unpredictable factors involved with this art, and its spontaneous process that demands energy, improvisation, gesture, expressiveness, and directness, all contribute to my enduring love for this medium. My current body of work focuses on the expansive, diverse environment of the Pacific Northwest landscape. With the simple use of contrast and minimal color, as well as line manipulation, I strive to create exhilarating compositions inspired by the natural world.
Artist Bio
Captivated by the wilderness since early childhood, artist Kelli MacConnell embraces a unique relationship with nature that continuously sparks her imaginative work. Exploring landscapes with careful observation, she translates her natural surroundings into richly detailed prints. For MacConnell, printmaking serves as a key vehicle in fostering a relationship between humans and the natural world. Through her creations, she strives to show how one person can both exist in civilization and remain connected to nature.
Exploring the outdoors is in MacConnell's blood. Her childhood road trips to the Smoky Mountains and Lake Michigan beaches were the inspiration for her extensive backpacking excursions as a young adult. While hiking the Appalachian Trail from Georgia to Maine, she tuned into wilderness exploration as both an integral part in understanding the world and an endless fuel source for creativity.
In 2006, after hiking the AT, sections of the Pacific Crest Trail, and traveling the country, she left her hometown of Cincinnati, Ohio. Once in Portland, she immersed herself in the vibrant Northwest artist community and Oregon wilderness. Soon after, at Portland State University, she found a love for printmaking, discovering the passion to share nature-driven experiences through artistic pieces. Currently, MacConnell is dedicated to exploring the endless possibilities of printmaking and creating original, introspective art in the hopes that it will speak beyond the frame, fostering a healthier relationship between humans and nature.
On view through May 23rd
RSVP to our Facebook event:  https://www.facebook.com/events/336812363479090/