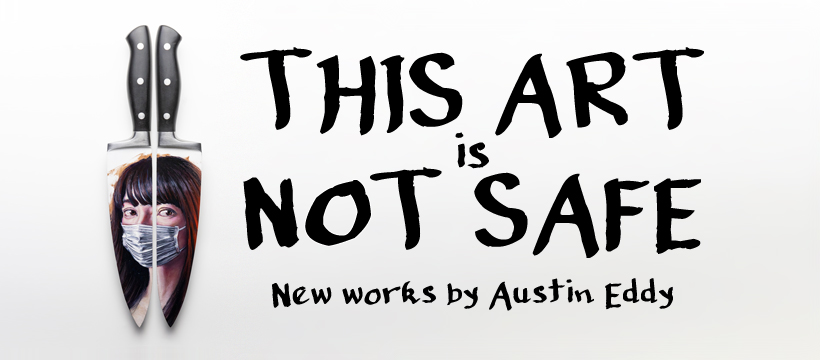 Please join us for a live Virtual Opening Reception
Saturday, June 27th at 6 PM!
Featuring performances by Alanna Fagan & Matthew Capurro
and a Q&A with artist Austin Eddy
This Art is Not Safe
My 2020 started with the worst migraine headache I have ever had the displeasure of living through. In February, I was stricken with a migraine and fever that lasted six or seven days. This is of course also the time that Coronavirus started to spread across the world. While I was bed-bound with this headache and fever I was struck with the idea to paint Portraits on Knives. I don't know if it was the sharp pain of the possible Coronavirus wreaking havoc on my body that gave me the vision but shortly after recovering, I set out to create the series of knife paintings. The original concept for the knife paintings was that a 'look" can be as sharp as a knife's blade and that getting "a look" from someone, can cut through you perhaps, even more sharply than a physical knife. However, as I started to make these paintings on knives it became clear that the connection between current events and the idea had more implications than I had originally realized. I'm forced to recognize that the idiom of the double edged sword or blade may have some meaning when it comes to the Pandemic. Now we must wear masks in public, limiting our perception of other peoples faces and emotions. Everyday life seems less safe. We must not touch each other. We must keep our distance. Other people have become dangerous to touch, much like a knife, if you are not careful you can get hurt. We are also seeing, what I hope, is the permanent cutting away of racism in our country and world. The Pandemic created a vacuum where the injustice of our system could take center stage. The people can chop down the old system and unite to slice away the injustice of the past and create a more just future for everyone.
The iPhone/iPad series is equally appropriate for the times. We are now more than ever attached to our devices. Some of us are desperate for connection, some of us were forced to be isolated from other people for perhaps longer than we have ever been before, often with a phone or other device the only window/portal to connect with others. This is also, somewhat of a double edged sword, as it allows a connection, but limits that connection to what is possible with technology. The idea of "Impermanence" is also a subject of my work. I endeavor to highlight the human condition. As we all grapple with our own impermanence and mortality in the world the concept of impermanence plays a central role in being human. Perhaps, impermanence is more tangible today than ever. These pieces intend to remind the viewer of that fact.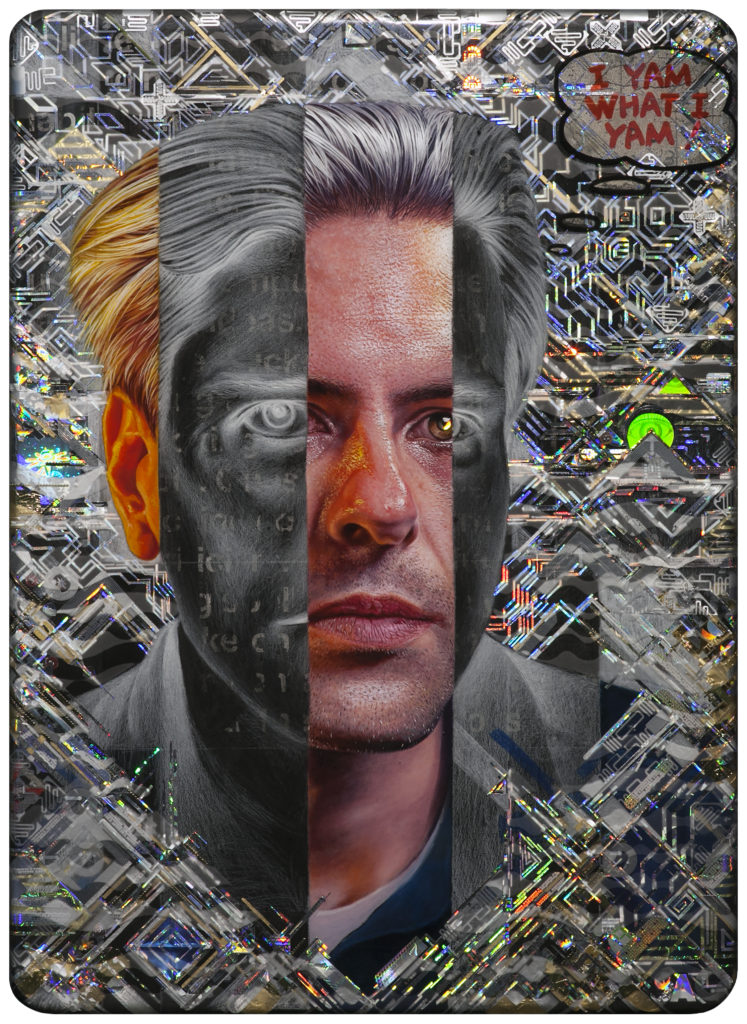 ABOUT THE ARTIST
Bio
Austin Eddy was born in 1981 in Berkeley California and was continually recognized for his talent in the visual arts as a child. As Austin continued his education he was encouraged to pursue art as a career. In 2001 Austin was awarded a scholarship to attend the Academy of Art University in San Francisco where he got hooked on animation and later received his BFA in 2005. After art school Austin had the opportunity to work as an animator on some of the most successful films in the last decade. You have probably seen his work in Avatar, The Hobbit, Rise of the Planet of the Apes, and other films. After 10 years working in the film and animation world and living abroad in Wellington New Zealand, Austin returned to the United States and decided to focus on his original passion of painting and fine art. Austin currently works and resides in Portland Oregon where he teaches college level art classes as well as workshops in fine art techniques.
Artist Statement
I am committed to making the beauty and unique mystery of the human experience tangible and accessible. The world around me and my experience of life inspire the visions that are conveyed in my work. The value of what is created and presented is found in its aesthetic quality. My visual language is formed from moments stumbled upon, ideas emanating from personal interactions, history, philosophy, science, art, music, religion, spirituality, politics, culture, and technology, or to put it more simply, contemporary life. The feeling of discovery, no matter how subjective, that a viewer finds in my work is what drives me to create art.
The Art of Austin Eddy
www.austineddy.com
COLLABORATIVE PERFORMANCES
Poetry by Alanna Fagan
alanna-fagan.com
Music by Matthew Capurro
matthewcmusic.com

For sales inquiries, or to schedule a private viewing contact Sara at 971.226.9191 or [email protected]
The World of Things, Oil on Canvas, 2015, 36×48, $2,800

Sunrise on a City of Forgotten Dreams, Oil on Wood, 2020, 36×48, $3,250

Three Bathing Women, Oil on Wood, 2020, 48×48, $3,250

Northwest Dreaming, Oil on Canvas, 2020, 36×60, $3,250

Persephone in Spring, Oil on Wood, 2019, 33×33, $2,800

Untitled, Oil on Panel, 2020, 12×12, $300

Split Personality, Oil on Panel, 2018. 16×32, $900

Anxciousness, Oil on Panel, 2018, 16×16, $900

#Selfie, Mixed Media, 2017, 17×23, $1,800

The Soul of a Place, Oil on Panel, 2020, 18×24, $600

Radiant, Oil on Wood, 2019, 24×24, $1,200

A symbol of individuality and belief in personal freedom, Oil on Panel, 2020, 18×18, $600

Knife Painting #1, Oil on Knife, 2020, 6×12, SOLD

Knife Painting #2, Oil on Knife, 2020, 6×12, SOLD

Double Knife Painting #1, Oil on Knife, 2020, 6×12, $500

Cleaver Painting #1, Oil on Knife, 2020, 6×12, SOLD

Double Knife Painting #2, Oil on Knife, 2020, 6×12, $500

Knife Painting #4, Oil on Knife, 2020, 6×12, $250

Knife Painting #5, Oil on Knife, 2020, 6×12, SOLD

Knife Painting #3, Oil on Knife, 2020, 6×12, SOLD

Cleaver Painting #2, Oil on Knife, 2020, 6×12, SOLD

Portrait Mode, Oil On Wood, 2017. 14.25×19.5, $900

Evil Con Carne, Oil on Wood, 2017, 10×13.75, $900

iCrush 2, Oil on Wood, 2020, 3.5×6.5, $250

#Selfie 2, Oil on Wood, 2020, 3.25×5.5, $200

2020, Oil on Wood, 2020, 5.25×8, $350

Electromagneticsupersaturation, Limited Edition Giclee, $150

Fragrance of Eternal Love, Limited Edition Giclee, $150

Opulence, Limited Edition Giclee, $150

Dia De Los Muertos, Limited Edition Giclee, $150

Impermanence Series, Mixed Media Interactive Artworks

Impermanence Series, Mixed Media Interactive Artworks

Impermanence 1, Mixed Media, 2020, 18×24, $600

Impermanence 2, Mixed Media, 2020, 18×24, $600

Impermanence 3, Mixed Media, 2020, 18×24, $600