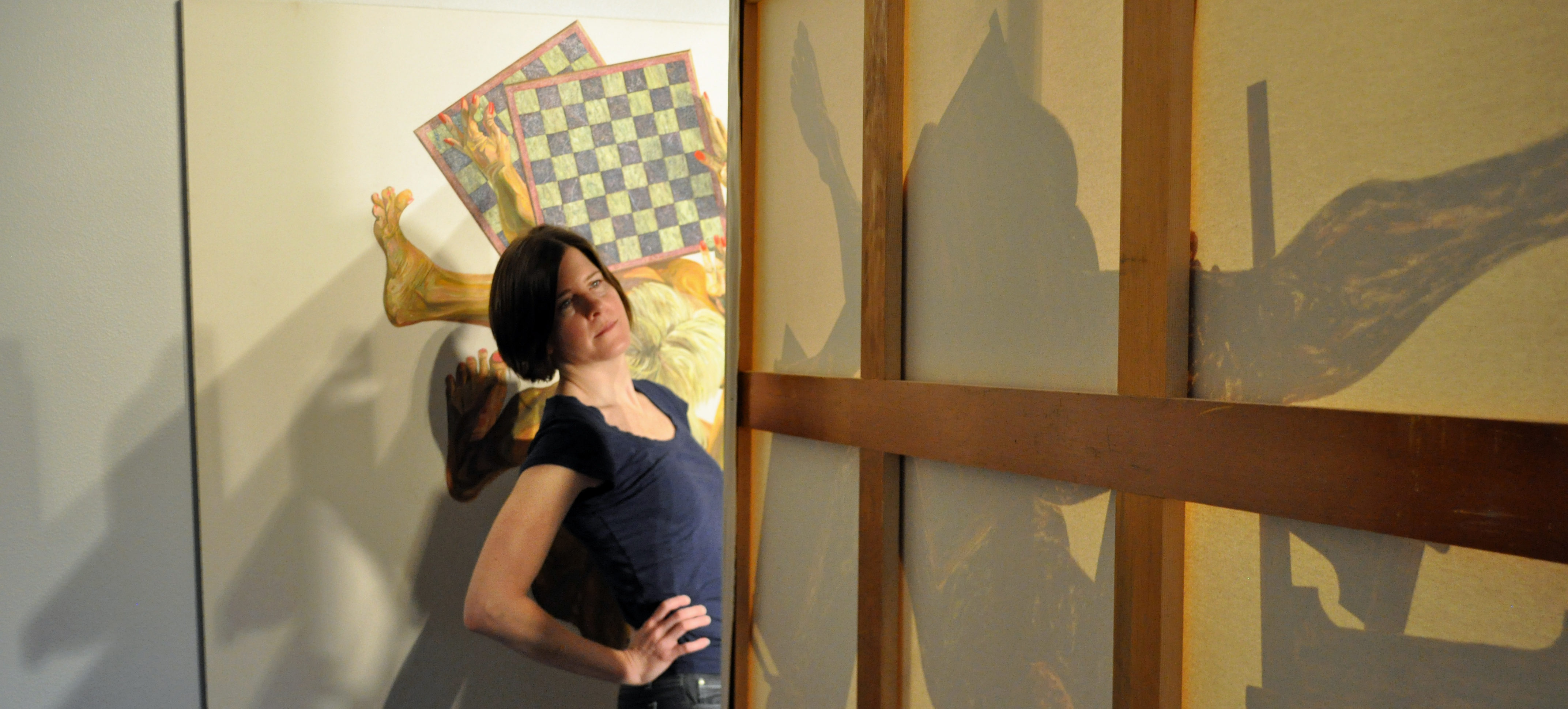 Opening January 28, 6-10 pm
With special opening night performances by
Rachel Mann Band and Free Thought Takeover
Show runs Jan 28 – Feb 25

Please donate $10 to help us cover opening night bands.
We have an extraordinary exhibit coming to the Ford Gallery at the end of January by Paul Rutz as well as special opening night performances by Rachel Mann Band and Free Thought Takeover. Below, artist Paul Rutz describes Around Corners and his vision for the opening.
—————–
Around Corners is a maze-like gallery installation that uses the physical heft of paintings to revel in the fact that when we view, we do it moving. Our hearts beat, lungs expand, and our eyes make continuous saccades, seeing not in single points of view, but in paths of attention that add memory and prediction to our sense of an unfolding now. We see with our feet as much as our eyes. How can painting celebrate that?
Since mid-2014, I have been working on several large, highly detailed paintings designed to be hung from the Ford Gallery's ceiling. Each picture depicts one live model who moved between two poses in the studio—back and forth for months—while I constantly changed my point of view and measured every body part and prop, painting them at exactly life size. I call these canvases documentary motion pictures, and I'll present them in a way that invites the audience to move, too. We'll hang the paintings in the middle of the gallery at various angles, using the paintings a bit like shoji, Japanese paper room dividers. To see the full show, viewers will have to move around the paintings' corners, encountering their material qualities, their heavy wood frames, copper nails and the shadow figures on semi-opaque stretched canvas—a focus on the craftsmanship that makes the image possible.
For the exhibit's opening, I have invited performing artists Rachel Mann Band and Free Thought Takeover to perform an experiment. On January 28, these two Portland bands will each stage a musical set from inside the installation. The paintings will wall off each performer in his or her own little space, and I look forward to seeing how they choose to play with that problem. In the same way that revealing the backs of the paintings is an invitation to explore craftsmanship itself, I expect breaking up the band spatially might become a powerful way to reveal the band. With choreography and improvisation around and through the installation, Rachel Mann's dulcet harmonies will set up Free Thought Takeover's dance-inducing brass funk. To see the performance, the audience will be invited to move around in it, too.
Using the motions people are always doing anyway, we aim to shake up the viewing and listening habits that otherwise go unnoticed on a night out.
— Paul Rutz
About the artist
Paul X. Rutz received his Ph.D. in Theory and Cultural Studies from Purdue University in 2011 after writing a dissertation on combat art and the Iraq war. That year Rutz took his portrait painting practice to Portland, OR, where he works with live models to develop life-size oil paintings. His work has been featured on the TV show Portlandia, and recent exhibitions include solo shows at Gay Street Gallery, Washington, VA, and Jupiter Gallery, as well as group shows at Mark Woolley Gallery and the Smithsonian Institution. His series of dual-media portraits of combat veterans, titled Between Here and There, has traveled to galleries in Portland, Vashon Island, WA, and the Oregon Military Museum. Rutz also writes about visual culture, with recent publications in the Huffington Post, On Patrol, Military History Magazine and many others.
About The Performers
Rachel Mann Band
Portland based singer-songwriter brings a special blend of old-time, country and folk.
Free Thought Takeover has been taking over Portland since March 2015. This lineup is stacked with professional musicians from across the country (New York, Chicago, Honolulu, Boston, Miami) bringing Portland a unique blend of a dynamic horn section, tight rhythm section, and exciting vocal artists.
Free Thought Takeover has taken over venues such as Holocene, Alhambra Theater, Hawthorne Theater, Kelly's Olympian, Star Theater, Graffitti Fest, Green Valley Music Fest, and many more.
They've been setting up stage with local Portland acts such as Glenn Waco, Elton Crey, Speaker Minds, The Sindicate & Dear Drummer, just to name a few.
Free Thought Takeover isn't just a band name. The group has made notable efforts to enlighten and donate to causes concerning free speech, human rights, and media censorship. Eighty percent of the world does not have access to free press. All the news they read is altered. Free Thought Takeover wants to change that.
https://www.facebook.com/pg/freethoughttakeover/about/?ref=page_internal