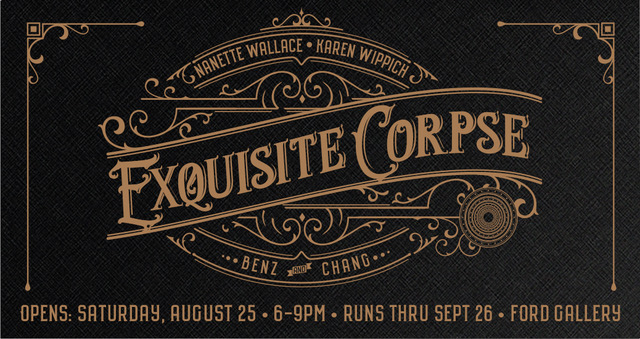 Featuring works by
Nanette Wallace, Karen Wippich, Benz & Chang
Saturday August 25th
6 – 9 PM
Exquisite corpse is a collaborative drawing approach first used by surrealist artists to create bizarre and intuitive drawings. Each collaborator adds to a composition only being allowed to see the end points of what the previous artist contributed.
All 3 artists, Nanette, Karen and Benz, are inspired by vintage figurative photography. While their imagery choices can be very similar, their approach is quite varied. It's as if they could be playing a game of exquisite corpse where one can see the connecting narrative in different stories.
************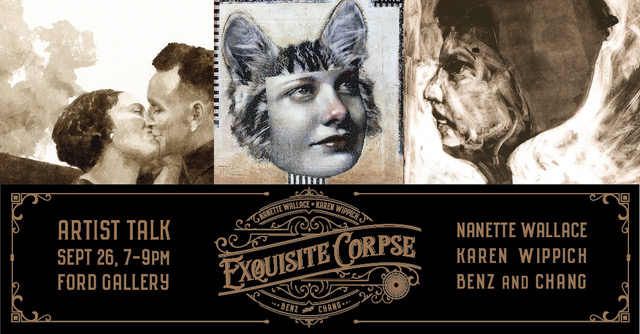 Join us for a special closing night event at Ford Gallery!
Artists Nanette Wallace, Karen Wippich and Benz & Chang will be there to share their unique insights and answer questions about their processes and how they came to collaborate on this month's intriguing show!

Wednesday, September 26 at 7 PM – 9 PM
************
Nanette Wallace
Nanette's work is gestural and energetic with a tendency toward emotive motion. A large component for the inspiration in her work is derived from vintage photographs from the early 1900s through the 1960s. While her work has a loose and lyrical quality to it, she is most interested in the viewer identifying their own story in her work.
Karen Wippich
Karen's work is a compilation of vintage photos, acrylic paint and unknown origins. She works without thinking, channeling the art through her. The paintings tell their own story, often interpreted by the viewer. She believes that by the time someone is viewing the work it is no longer hers.
Benz & Chang
At first glance, the haunting paintings of Benz and Chang appear to be vintage sepia photographs. Upon closer examination, they reveal themselves to be walnut ink drawings rendered by hand on watercolor paper. The figurative paintings portray mysterious narratives that are largely left to the imagination of the viewer.
While the show primarily features each individual artists work, in the spirit of the title Exquisite Corpse, the artists have chosen to participate in their own version of the game. Each artist created work on a panel without knowing what the other artists had done; only the connection points between the panels were revealed to one another. Nanette, Karen and Benz have created a couple of Corpses for this show. The outcome is surprising and exquisite, and not to be missed.
On view through September 26th
Facebook event: https://www.facebook.com/events/280244379228452/