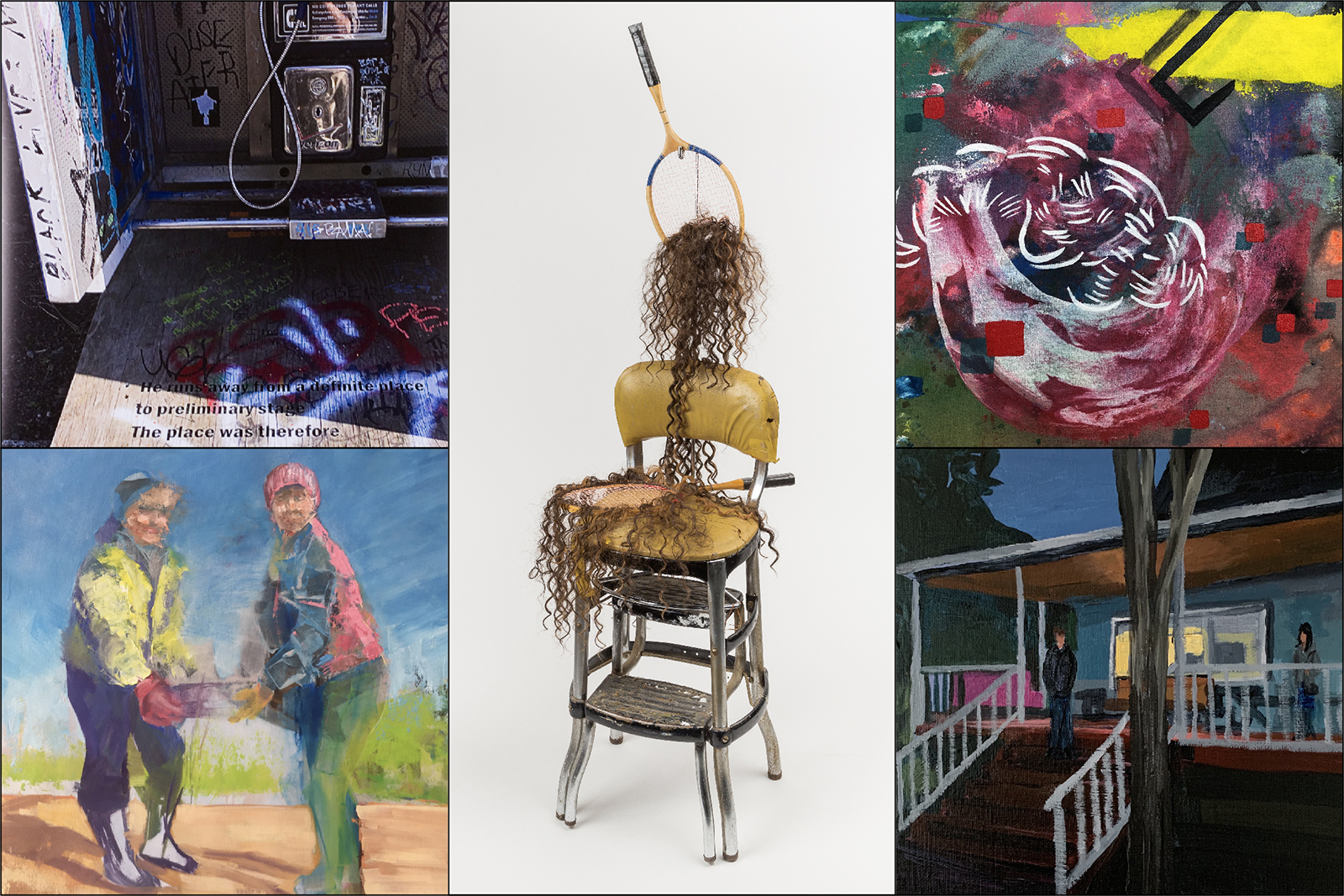 In the contemporary world, we tend to live and breathe narrative. The connective tissue of the Story has threaded into much of our cultural consumption. Whether we are digesting the news of the day, taking in the entertainment media, or sharing anecdotes with loved ones, we've learned to mimic the narrative arc perpetuated in our histories and our fictions, as we learn and re-tell.
This collection of artists serves as a cross-section of creative production that activates our intuitive sense of narrative as a means to engage with their work. Often snapshots, and at times borrowing from the tools of abstraction, these pieces empower the viewer to consider questions pertaining to the information left off the canvas as a means of connecting with the artwork itself. At times creating art speaking to social questions, personally lived experience, or the captured moments of a photograph, the selected works of these artists deploy the viewer's narrative faculty in accessing and finding dialogue with the piece.
Featuring works by:
Marie Conner
Kyle Lee
Hector Ornelas
Tatyana Ostapenko
Mami Takahashi
Guest Curator: Cass Gray
Opening Reception
February 29th, 6-9 PM
With a performance by Marie Conner at 7 PM
Music provided by BHOLT in Ford Food & Drink
Bios
Marie Conner
Marie Conner is living her best life as a Portland based inter-disciplinary artist, non-fiction writer, and educator with a focus on disability aesthetics and otherness theories. She received a BA in Liberal Arts, Sculpture and Writing in 2015 and an MA.Ed in Postsecondary Educational Leadership and Policy from Portland State University in 2017, followed by an MFA in Visual Studies from Pacific Northwest College of Art in 2019. She has exhibited across the Pacific Northwest and in Antwerp, Belgium. Her work asserts that the non-normative body can be seen through the lens of the sublime and beautiful, and that every body is actually non-normative. She has a pedagogical philosophy grounded in experiential learning, with a focus on personal narrative. Her work also asks what access really means and strives to establish a framework and language with which to open lines of communication concerning difference and acceptance.
Kyle Lee
Kyle Lee was born and raised near Tampa Bay, Florida. After traveling around the United States in his early twenties, he made a move to Portland, Oregon and began his studies in art at Portland State University. He received his BFA in 2013 and MFA in 2016. He has exhibited in galleries around Portland including Littman Gallery, B10 Gallery, Blackfish gallery, and he is a recipient of the 2016 Arlene Schnitzer Visual Arts Prize. Kyle has remained in Portland for nearly nine years and never got a tattoo.
Hector Ornelas
Hector Ornelas is a first generation Mexican American who lives and works in Portland, Oregon. He has received a BFA from Portland State University. Primarily he works in painting and photography, and currently experiments with larger scale work and mix medium. Ornelas takes inspiration and imagery from both American and Mexican culture to create work, and uses his work as a way to better understand himself and his identity as a Mexican American.
Tatyana Ostapenko
Tatyana Ostapenko makes history paintings to record the lives of people who will never make into official historical records. She was born and raised in Soviet Ukraine and currently lives in Portland, OR. She holds a BFA in Studio Practice from Portland State University.
Tatyana's work has been exhibited at the 5th Geoje International Art Festival (South Korea), Odessa Contemporary Art Biennial (Odessa, Ukraine), the Governors Island Art Fair (NYC), Cape Cod Art Museum (Dennis, MA), Littman Gallery (Portland, OR) Locker 50b (Richmond, VA) and Site: Brooklyn (NY, NY).
Mami Takahashi
Takahashi received her MFA in Contemporary Studio Practice from Portland State University in 2013. She earned a BFA in Japanese painting from Joshibi University of Art and Design (Japan) where she was awarded a prize for her thesis work. Takahashi also obtained an Associate of Fine Art in Aesthetics from Aoyama-gakuin Women's College (Japan).
Takahashi's practice includes both traditional craft techniques and technological approaches, such as chemical reactions and digital modulated sound systems. In addition to being a visual artist, Takahashi is also a research scholar at the University of Oregon focusing on the conceptual understanding of Japanese aesthetics. Her work has been collected and exhibited internationally.
On View February 29 – March 25, 2020