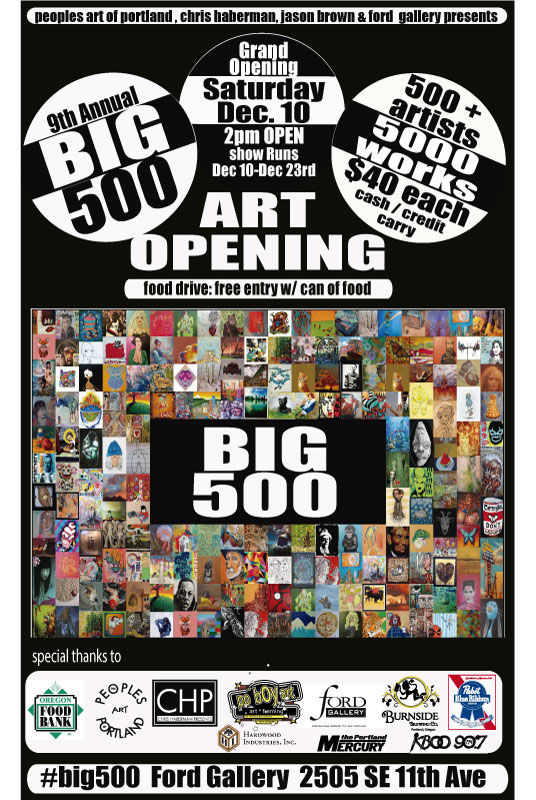 $40 Original ART Benefit
500 + regional artists create ART on 8″x8″ wood panels. 5000 + works of ART on display, a mere $40/piece!!!!! CASH/CREDIT/CARRY.
Event begins SHARP at 2pm, Saturday, December 10, 2016.
First Come/First Serve. NO ART will be SOLD before 2pm this day. Show runs through December 23, at Ford Gallery, the main floor of the Ford Building/SE Division.
Gallery hours Dec 11-23, 9am-6pm DAILY.
A portion of the proceeds benefits the Oregon Food Bank. FREE entry with non-perishable food items/Can Food. Proudly, this is our 9th year for this show, which has moved to this location from its high rise galleries at Pioneer Place (2009-2015).
Big 500 is a trademarked show by Chris Haberman Presents, produced by Chris Haberman and Jason Brown (duo of Peoples Art), hosted by Ford Gallery (guest partner, Ross Blanchard), sponsored by Oregon Food Bank, Pabst Brewing, Burnside Brewing, Ford Building, Portland Mercury, KBOO, Hardwood Industries, PoBoy ART frame shop and Chris Haberman Presents. Thank you in advance to the hardworking and dedicated artists, collectors and community of our beloved Portland, Oregon, and its devout appreciation for the creative culture. Go Big 500!! #big500artshow
Don't forget to join & share our Facebook Event!video
Video by Danielle Kirby and Adam Bailey