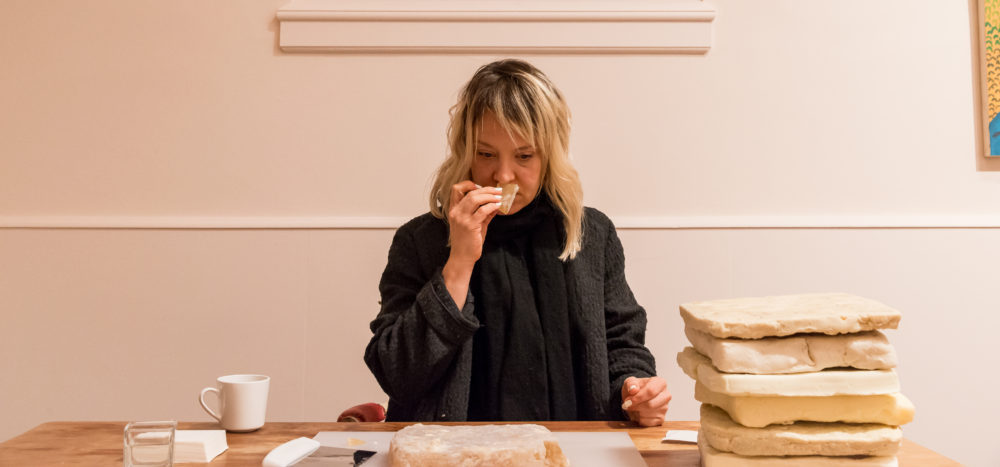 Please join us for a night of poetry, art, food and drink as Ellen Petruzzella and Lindsay Martin show their work in the exhibition: The Habitual and The Novel: Magic, at the Ford Gallery on Saturday, January 26 from 6 pm to 9 pm. Poetry Reading begins at 7 p.m. Please find more details below.
Opening Reception
Saturday January 26th, 6 – 9 PM
Poetry Reading at 7 PM

Gather. Retain. Modulate. Materialize. Share. The Habitual and The Novel: Magic showcases Ellen Petruzzella and Lindsay Martin's thesis bodies of work created at Oregon College of Art and Craft. Both revel in sensory experience, image, and poetic memoir. Their practices focus on transforming the everyday into the extraordinary with material and perception. This work exists in partnership with the fated and coincidental alignment of material and time, of body and spirit.
Ellen Petruzzella focuses on building relationships and understanding through material and sensory encounters. Lindsay Martin uses painting to create a poem via imagery, searching for a new visual language from place and experience. She grapples with place, pulling it apart and putting back together to form new potentials, the casual and the wonderful, in the present. Inspired by Virginia Woolf's To The Lighthouse, this show seeks to share stories via poetry, object and image to create something new and thus, creating something magical.
Artist Statements
Ellen Petruzzella
My interdisciplinary work explores intimacy and knowledge, provoking curiosity regarding the unity of mind, body, and environment. I explore exchanges of understanding and trust through perception, corporal comprehension, and intuition. Investigations of the senses and habitual patterns allow for a vivid experience of the present and a connection of people and place through discovery and attention. I design sensory experiences, which promote slowness, require physical presence, explore preferences and aversions, and question what is biological instinct and what is cultural construct. Through conscious experience of physical self, we access the unconscious space between the known and the felt.
Lindsay Martin
I want to map out the world through painting by turning. The turn is not transformation, yet. By turning, one is slowly changing a situation, viewing a slightly altered perspective. A transformation happens after many turns; when I arrive at a location, my place transforms from home to beach. My work focuses on the wonderful subtle movement, the leap before home to car, car to gas station, gas station to highway, exit 5, rest stop, diner, beach. Place is both general and detailed, it is permanent and temporary; place is a fluid illusion. Painting emerges as material algomation of the body's translations of memory. I am curious about comparing the psychological perspective of interior, exterior imagery and the symbolism of architecture. These challenges are met with the language of painting and ideas of expansion in painting through material. Paintings are poetic anecdotes, an escape window, a doorway to the past, a barrier between interior and exterior.