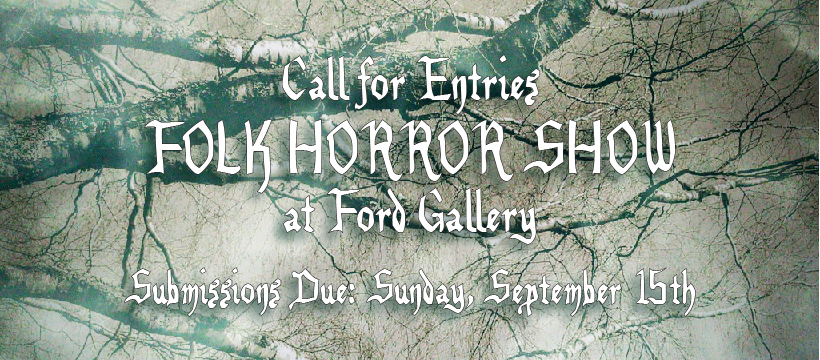 Just in time for the autumnal equinox, Ford Gallery is excited to present "From the Forest, From the Furrows, From the Field", a group show inspired by folk horror, a subgenre of horror in which rural, isolated communities assume their folklore and superstitions to be true, often revealing the continued practice of sinister, ancient pagan beliefs. In some folk horror tales, creatures said to lurk in the woods are very real, hexes and enchantments have genuine effects, and the old gods do indeed grant bounties and bring punishments, but often the community's rituals reflect only the failings of tradition, and evil in the human heart.
Artists may submit up to three pieces in any medium; we must ask that no single work be larger than 36″ in any dimension. Space for 3D work is limited – let us know if you require a podium or special display requirements. Work must have been completed within the the last three years, and have not already been shown at the Ford Gallery. There is no entry fee, but the Ford Gallery takes a 40% commission on work sold.
If you would like your art to be considered for our promotional materials, please send images of finished work by Sun, Aug 18. Please confirm your participation by Sat, Sept 15. Work is due at the Ford Gallery (2505 SE 11th Ave, Portland) by Sat, Sept 21.
Send submissions to [email protected]
Intrigued, but unsure if your art would fit? For a better sense of the folk horror aesthetic, check out these films and books: The Wicker Man, Midsommar, Blood on Satan's Claw, Children of the Corn, The VVitch, November, Valerie and Her Week of Wonders, "The Great God Pan" by Arthur Machen, "The Lottery" by Shirley Jackson, "The Ritual" by Adam Nevill (and its 2017 film), "The Loney" by Andrew Michael Hurley, "The Owl Service" by Alan Garner
Submissions Due:
Sunday, September 15th
Opening Reception:
Saturday, September 28th
6 – 9 PM