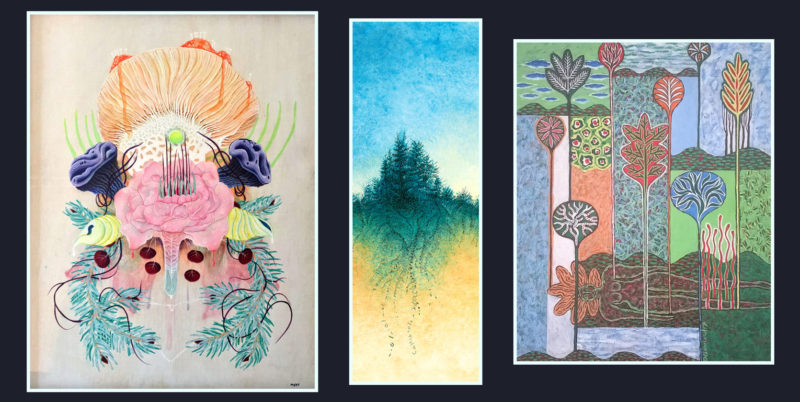 Self care in mental health is hard work that takes constant effort and a good deal of self love. The artists in this exhibit share their experience as neuro-atypical peers while illustrating the tools they use to cope with works inspired by their own personal self care regimen. Artists share their story of depression and discuss methods they have used to live with or overcome depressive symptoms.
Through this exhibit, we aim to provide those who are starting out with self care useful knowledge, helpful resources, shared experience, and to see that they are not alone.
Ford Building, 2505 SE 11th Ave, Portland, OR 97202
SKILLSHARE BOARD
The specifics of depression and self care are different for everyone, and not any single technique can be said to work the same for everyone. On display for the duration of the show, this board is a place for attendees to share their own personal tools in self care with others. These can be common or off the wall. Whatever has worked for you, we hope you'll share them with us!
Featuring Live Presentations on Self Care:
7:30 pm – Movement and Vitamin D on Depression and SADs by Sadiq Sheraze and Ryan Hansen
Ryan Hansen received his B.S. in Exercise Science from Western Oregon and a B.S. in Biology from the University of Western States. He is currently completing his Doctorate in Chiropractic Medicine and a Masters in Sports Medicine and Exercise Science. Ryan was born and raised in Dallas, Oregon. He is a seasoned athlete and has practiced almost all forms of sports ranging from soccer, baseball, football, dance, and gymnastics. Ryan has a strong passion for the way the human body moves and he inspires to teach people the benefits of movement.
Sadiq Sheraze graduated from Baylor University with a B.A. in psychology and a B.S. in Biology form the University of Western States. He is currently working towards a Doctorate in Chiropractic Medicine and a Masters in Nutrition and Functional Medicine, also from the University of Western States. Sadiq loves everything nutrition and believes health starts with mindset and that food is medicine. He takes a particular interest in Mind-Body Medicine and strives to educate individuals on the interconnectedness of our body systems.
Ryan Hansen and Sadiq Sheraze are currently Chiropractic interns at the University of Western States and the owners of Optimal Alignment, a future healthcare clinic centered around movement, mindset, and nutrition. They educate individuals on how to optimize both your internal and external environments to best serve your goals and your health.
8:00 pm – Mindfulness and Nature on Depression with Brittan Alperin and Sienna Morris
What do the brainwaves of a depressed person look like? How can they be changed?
Brittany Alperin, a behavioral neuroscience graduate student at OHSU, and Sienna Morris, an artist and science enthusiast, will talk about how mindfulness meditation and self-care can not only decrease depressive symptoms, but can also produce measurable change in your brain! Join us for a discussion of Sienna's journey through mindfulness practice, take a look at how her depressive symptoms and brain waves changed over time, and see the art that this experience inspired.